The New Predator - Piranha² Custom Computer by CSIM© - Upgraded Minibox, PC-X box, design to wear the Predator Name. The Piranha II may be small but it Bites the competition in the ... well you know where!
Now using the Intel 845GE North bridge Chip set - which means the highest compatibility and reliability.
Uses "Heat Pipe" Technology to keep its cool.
(Shuttle I.C.E. heat-pipe technology )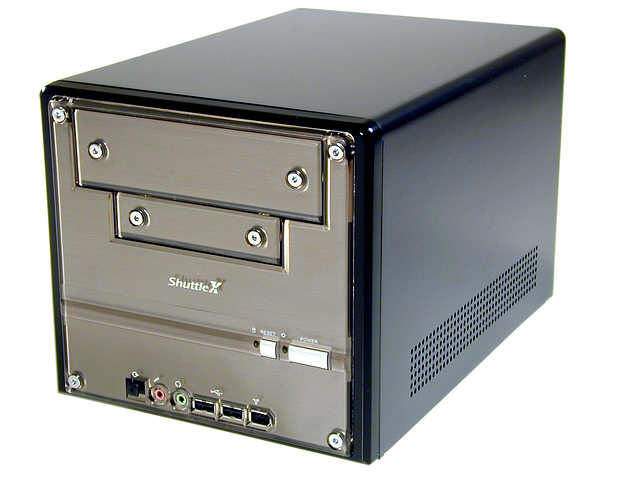 Limited in chases expandability - but when you need a space saving computer this one is built right! ... It has lots of USB and Firewire outlets so you can attach lots of goodies on the outside.
Intel P4 533FSB capable.
Chassis
Dimension
(L)300*(W)200*(H)185 2.85Kg (N.W.) 4.65Kg (G.W.)
Front Panel
USB * 2 Line-out/Headphone * 1 MIC * 1 1394 *1 SPDIF * 1
Back Panel
Serial Port * 2 1394 * 2 USB * 2 LAN * 1 Parallel Port * 1(optional)
Extension Bay
5.25" * 1 3.5" * 2
Mainboard
FB51
Form Factor
Small Form Factor
CPU
Socket 478 400/533MHz FSB
Chipsets



North bridge:

Intel 845GE

South bridge:

ICH4
Memory
DDR 200/266/333 * 2
VGA
Intel 845GE performance 256-bit 3D engine
Audio
AC '97 (supports 5.1 channel) Support Digital SPDIF In/Out
Expansion Slot
PCI * 1 AGP * 1
IDE interface
ATA-100
Power
200W (PFC)
Accessory
TV-Out Support (Option), USB 2.0, Aluminum Chassis
Hot Features
Hyper Threading support, Shuttle Form Factor, Shuttle I.C.E. heat-pipe technology
A BIG performer for it's small size 8"w x7"h x11.5"d