1. 50% TO 100% MORE POWER
The more power, the better! Our high-capacity units start drive motors with ease, run cooler, last longer, and allow for future expansion.

2. BUILT-IN LINE CONDITIONING
Turbo-Cool power supplies won't skip a beat when the line voltage sags. Their wide input range (85-135V, 170-270V) and heavy-duty input components protect your PC and its data from sags, surges and spikes.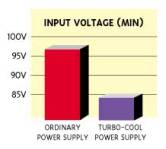 3. AUTO-SELECT INPUT
Forget 115V/230V switches! For international safety, the correct input range is automatically set.

4. ULTRA-CLEAN DC OUTPUT
A dual-stage output filter ensures that sensitive computer chips receive pure, low-ripple power.

5. INDEPENDENT REGULATION
Turbo-Cool's superior independent regulation design keeps output voltage tolerances 10 times tighter than an ordinary power supply!
This exceptional stability improves
drive reliability during critical read/write periods.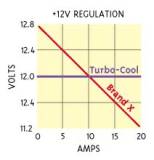 6. OVP, OCP, OTP, SC PROTECTION
Our units offer the most complete protection from dangerous overvoltage, overcurrent, overtemp, and short-circuit conditions.

7. HIGH-CAPACITY COOLING FAN
Each Turbo-Cool unit features a high-capacity, long-life, ball-bearing fan that keeps the entire computer up to 40°F cooler for greater reliability and longevity.

8. UL/CE/FCC APPROVALS
Turbo-Cool's EMI levels and thermal characteristics are far superior to ordinary units.

9. 3-YEAR WARRANTY
Designed, built, and tested for maximum
reliability, Turbo-Cool's 5-year failure rate is
less than 1%! They're backed with the industry's strongest warranty program and a 30-day money-back guarantee.

10. GREAT VALUE
Loaded with premium features, a Turbo-Cool power supply will upgrade the performance of your PC or LAN file server at a retail cost of only 40˘ to 70˘ per watt.